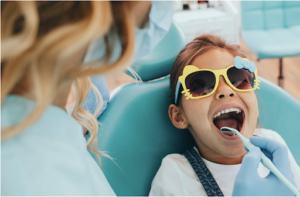 Education 
Pediatric dentists must receive the following credentials prior to becoming a pediatric dentist: 
High School

Undergraduate Degree

Dental School (4- Year program)

Licensing

Residency (2-Year Program)
A pediatric dentist has 6 years of postgraduate education. This credentialing process is intense but necessary for pediatric dentists to undergo to provide the highest quality care. Some of the training involved in a pediatric residency includes clinical experience, child psychology, child development, child-related pharmacology among many other areas. Some programs offer training related to radiology, advanced surgical procedures, special needs care, sedation and treating injuries. 
Excellent Experiences 
Pediatric dentists are experienced in handling routine dental care for children of all ages and levels of need. For routine care, you can trust that our team knows how to consider your child's emotional state, and will tailor our interactions to accommodate the individual needs of your child.  
Emergency Care
In the case of an emergency, your pediatric dentist may work with a team of specialists to provide the most appropriate care for the given situation. No matter your child's dental needs, your child's positive experience and long-term health will be prioritized. 
Relationship Focused
When choosing a pediatric dentist, you'll want to consider the following: 
Qualifications

Team

Reputation
When your child looks forward to visiting his or her dentist, maintaining a healthy smile becomes much easier. Your child will listen to the at-home advice of the dental team and embrace healthy habits. Choosing a dentist who is qualified to care for your child is the first step. Next, ensuring your child's dental team will communicate properly allows you to build trust and confidence in the care received. Lastly, you'll want to consider the reputation of your dental team. Do other parents and patients leave raving reviews? Do you get a sense of family and friendship when entering the office? 
Contact Our Pediatric Dental Team
If you're seeking a pediatric dental team that can provide your children with quality care in a compassionate environment, contact us today. We look forward to meeting you.
Providence Pediatric Dentistry
111 Point Street, Suite #1