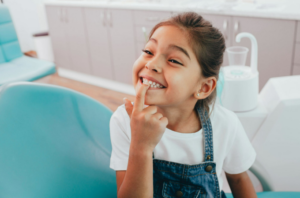 Have you heard your child making an unidentifiable noise in their sleep? The sound you could be hearing is the sound of your child grinding their teeth together. Teeth grinding, or bruxism, is a problem primarily common amongst adults but can happen in young children as well. In some cases, children as young as a year old can have the nightly habit. While childhood teeth grinding usually isn't very problematic, it is still something you should mention to our pediatric dental team. Learn more on the causes of bruxism and what to do if your child grinds their teeth. 
What Are the Causes?
There are a few common causes of bruxism in young children. Teeth shifting or teething, replacing pacifier use, and ear infections can be the cause of a child's teeth grinding. One other area that can be a big cause of bruxism is stress. Like adults, the effects of stress can manifest in physical ways in children. Changes in routine such as eating or sleeping habits, or even problems at school can play a role in this. 
What should I Do?
Luckily bruxism usually fades in children with the addition of their permanent teeth. However, if the habit continues, or teeth are being worn down quickly, schedule an appointment at our pediatric dental office. We will evaluate your child's mouth to see what kind of damage is being done, and help you decide whether further action needs to be taken. 
Working to eliminate any additional stress can also help ease the causes of bruxism. Maintaining a consistent schedule for your child, specifically around bedtime, is very important.
 If you have any questions or would like to schedule an appointment, contact our pediatric dental office today.
Providence Pediatric Dentistry
Phone: (401) 272-3443
111 Point Street, Suite #1
Providence, RI 02903