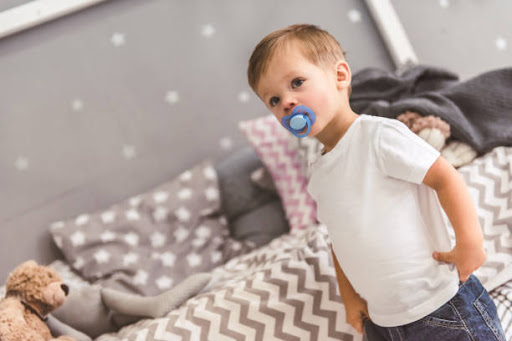 Since 1900, pacifiers have been one of the most common ways to soothe fussy babies, but they can be a difficult habit to break as children get older. Excessive use can cause improper mouth development, which leads to abnormal tooth growth and additional complications later in life. Here is what you need to know about whether pacifiers hurt tooth development and impact a baby's smile.
How Pacifiers Affect Teeth
Pacifiers, also called pacis, binkies and dummies, can influence the shape and alignment of a baby's teeth and jaw. Used excessively and for a long period, they can push the front teeth forward, leading to crooked teeth or overbite. Pacifier use can also change the shape of the roof of the mouth. Using it after the age of six months can lead to a higher risk of otitis media, a common and painful type of ear infection.
Benefits of Pacifiers
While they may contribute to oral health complications, pacifiers do offer several benefits. The sucking action itself is calming to babies, teaching them to self-soothe and relax. Pacifiers can relieve pain during minor procedures like immunizations and heel sticks, as well as relieve ear pressure during flights. According to the American Academy of Pediatrics (AAP), pacifier use at night may lower the risk of sudden infant death syndrome (SIDS) in babies one to six months of age.
Use Pacifiers in Moderation
The AAP and American Academy of Family Physicians recommend weaning babies from pacifier use at around six months of age. Research shows prolonged use after two years, and definitely after age four, has the most adverse effect on teeth.
Up to 85 percent of children in the western world use a pacifier at some point, and most do not suffer dental problems as a result. Breaking the habit of pacifier use should begin after six months. The process should be gradual to avoid distressing your child. Talk to our office about the many ways you can wean your baby off of the binky. By following our tips and recommendations, your child can experience the calming effect of pacifiers without developing pacifier teeth.
We also recommend that you visit our office for an examination as soon as your child's first tooth erupts so we can monitor tooth development. It is never too early to start good dental habits in a child's life. Call and schedule your child's next appointment with our team today.
Providence Pediatric Dentistry
111 Point Street, Suite #1