Pediatric Dentistry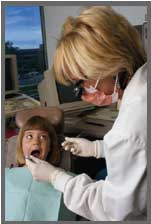 What is Pediatric Dentistry?
Pediatric Dentistry is a dental specialty that focuses on the oral health and development of children from infancy to late adolescence. A pediatric dentist completes two additional years of residency training after dental school to obtain a certificate in the specialty of pediatric dentistry.
This training includes an extensive study of growth and development, child and adolescent psychology, caries prevention, nutrition, advanced restorative care, behavior management techniques, pediatric oral pathology, hospital dentistry and the management of special needs and medically compromised children.

This additional training provides the pediatric dentist with a greater depth of knowledge and understanding of the oral health care needs of the pediatric population.